[Editorial Note: This is a continuation of yesterday's The Language of Art, giving examples for that discussion. Further, this is part of a loosely related series, which begins here.]
In Seeing the Light, Part 1, I discussed that some people might understand the words that they should be alert to "good" light which can help "make" a picture… but they haven't experienced how profoundly light can affect a scene's appearance, and they don't even know what to look for. And so I showed an example, making readily apparent what "the light makes the picture" means, to give a frame of reference and help them see it and experience it for themselves. Similarly, today I'll show examples for yesterday's discussion of the language of art, making the concepts more tangible, to help people experience it for themselves.
I prefer not to spell out what I wanted to communicate in my pictures, and how I tried to compose toward these ends. As I mentioned, yesterday, what artistic expressions communicate is not fully translatable into literal descriptions. Since we can't fully express pictures in words, trying can be frustrating, misleading, and unsatisfactory for all involved. Additionally, spelling things out can hamper the viewer's interpretive role by constricting and/or shifting the interpretive possibilities. Moreover, a certain pleasure and depth of understanding can be lost by spelling it out for the viewer, instead of letting the viewer tease it out for herself/himself. It's sort of like giving someone the solution to a puzzle.
Nonetheless, the benefits outweigh the costs, so here goes. Please keep in mind that part is lost in translation, and please take the opportunity to read the rest of what is in these pictures for yourself.
---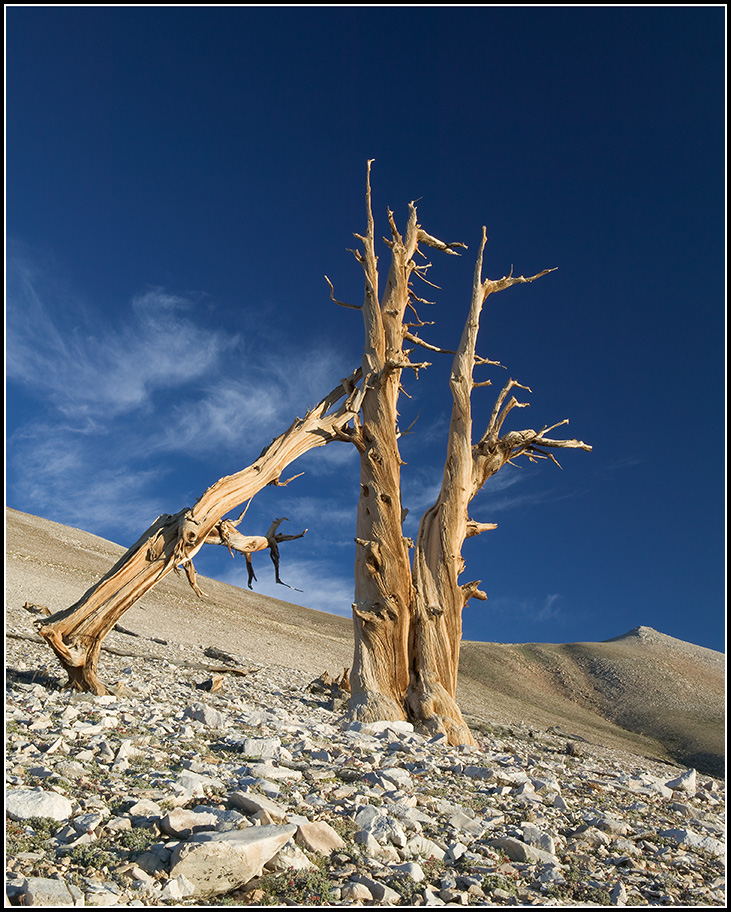 Fewer than five minutes after dawn, the temperature was already nearly 100 degrees Fahrenheit. I was panting for breath, a little, as I hiked up hills in the thin air at about 11,000 feet above sea level. The air was so dry that my throat was parched and my lips chapped, despite drinking plenty of water. I was experiencing the area as a rather harsh environment, in which life struggles to survive, and so I decided to show that in a landscape. For a subject which expressed this, I chose a dead tree fallen down against another dead tree. [As an interesting side note: these trees died over 2,000 years ago; but the area is too harsh to support fungus and insects to rapidly decompose them.] I framed the shot to include as much barren area as I could, from my feet to the distant mountaintop, while excluding the signs of life to the left or the right, just out of the frame – thereby creating a sense of desolation. I polarized the shot, to make it look starker and harsher. I waited a couple minutes, until the cloud blew into the shot, to create a feeling that even the clouds were wispy, distant, beyond the next ridge, bringing no relief. I wanted to show the standing tree large and straight up, and defiant, even in death, because I felt it adds to a sense of starkness.
---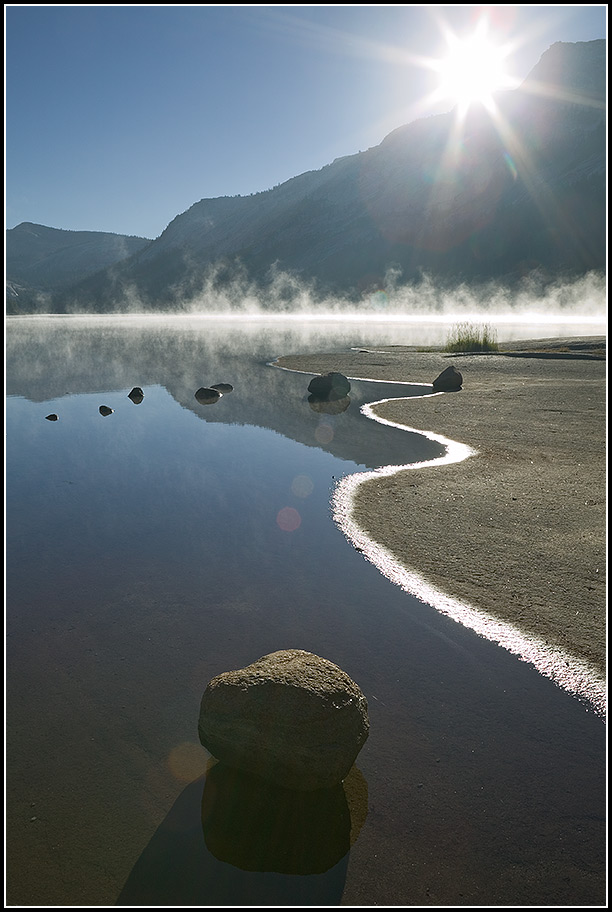 I was on the scene, waiting for the sun to rise over the ridge. I was standing in the mountain shadow, and the temperature was just a little above freezing. Then, when the sun rose above the ridge, suddenly, everything was warm, and dazzlingly bright. Since I was having an experience of the sun completely transforming the landscape, affecting everything, I composed a picture to capture that sensation. To do so, I stopped down my lens's aperture, to show the sun extending its rays in a "star", and I included such elements as the reflecting shoreline, the glowing mist rising from the lake, and even the flare in the camera.
---
Since some people have an easier time understanding pictures with a human element, here are some of my people pictures.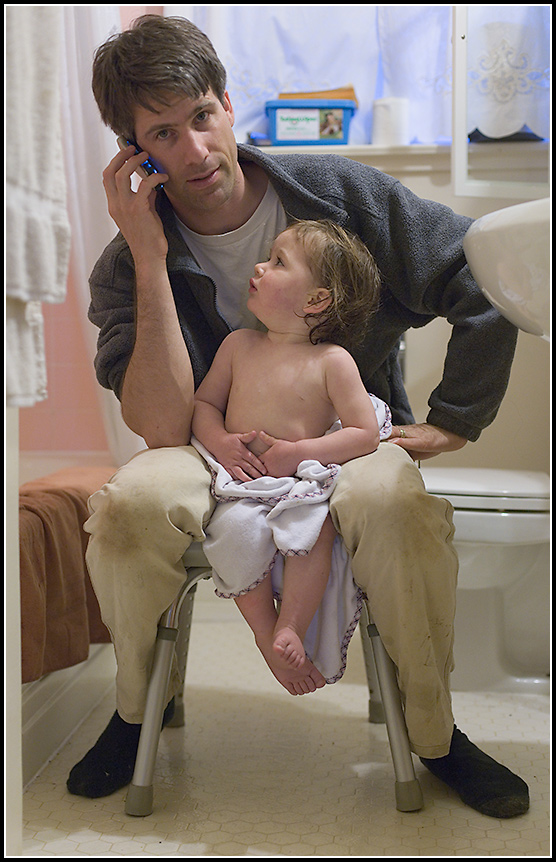 This picture shows (1) a beautiful baby girl who innocently expects her father's undivided attention and efforts, and (2) her Papa, who would like to give her his complete focus, but must split it with her because of the other demands on his life. The baby is placed centered in the picture to show her as the center of the universe, both in terms of her own understanding, and in terms of her father's ultimate priorities. She is shown from a low angle, with me sitting on the floor as I photographed her, so that you see her from eye level, to get a sense of seeing her perspective. Her gaze toward her Papa shows her expectancy and desire for his attention, and her gesture with her hands shows her expectations for him to attend to her. The father is framed very tightly – so tightly that if he wasn't hunched over, or if he straightened his legs, he wouldn't fit in the picture – to give a sense of the demands of the world encroaching upon him, boxing him in. The various objects which tightly encroach his space in the frame (such as the towels, cabinet door, box of baby wipes and toilet paper) on all sides, the lines which converge with him (such as the toilet, shower curtain, and the shelf), and the sink which overlaps him and presses into him all contribute further to the feeling of external pressures invading upon him. In addition to framing decisions, I chose a modestly small aperture to maintain awareness of some of this clutter. The one rolled up sweater sleeve gives a further indicator of bath time, and gives a sense of being interrupted, in the middle of what he was doing. His posture, with the way he's leaning on his left hand and on his right elbow, indicates his impatience to get off the phone. His gaze shows his split attention.
---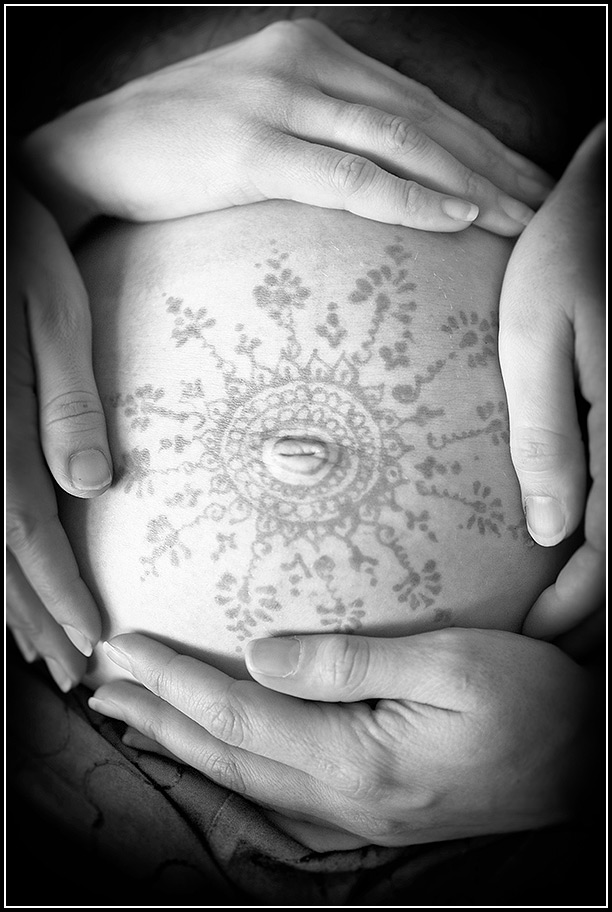 This picture was designed to touch upon themes about the world of potential within this new life developing inside of Monica, and about an unbroken chain of love encircling and protecting this new life.
---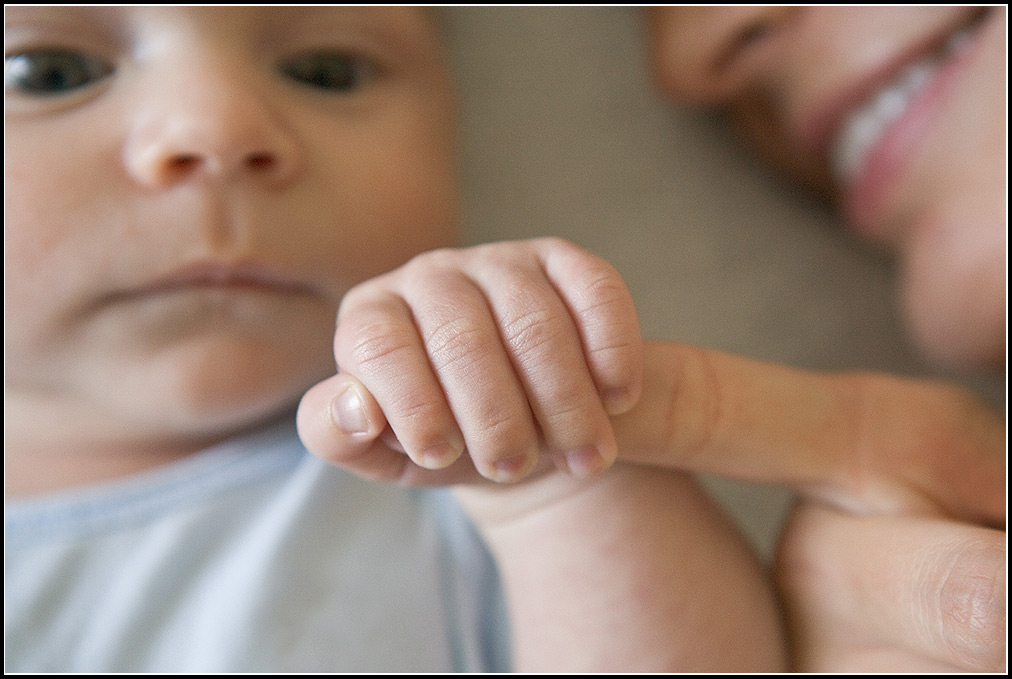 This picture depicts this little fellow's developmental stage: just starting to focus his eyes and his attention on objects, and just starting to grip things. It also literally and metaphorically shows the mother guiding her child, giving her child a hand, being there for her child, and helping her child reach higher. It's shows the mother metaphorically always behind her child, watching over him, even when he doesn't realize it. It depicts how they interact with each other, at this stage in the babe's life. It depicts the mother's love and joy in her newborn son.
---
It's necessary to specifically note a couple points about communication, in the pictures above, which go contrary to the popular views many hold:
(1) The full enterprise of wholly composing pictures is not just a matter of spatial design. It includes anything and everything that you care to include.
If we take the picture of Monica (and unborn Livy), for example: consider the choice of showing only belly and hands, to the exclusion of faces and all else; consider the employment of the henna mandala pattern; consider the placement of the hands, encircling the pregnant belly; the usage of light and dark – what is highlighted and what is excluded; the emphasis on skin and body hair texture to create a sense of intimacy; the decision to make it black and white; and so on.
(2) The spectrum of possible expressions through visual communication is not merely limited to "Pleasing" versus "Discordant" (i.e., the main expressive mode many photographers consciously try to employ, when they design pictures by geometric rules; purportedly, "following the rules" = "pleasing",  and "breaking the rules" = "discordant"). It can include more specific and articulate communication, about whatever you want.
Expressions can be as articulate as "this unborn child is encircled by an unbroken chain of love", or "The sun transforms the landscape", or "this mother is always watching over and guiding her child" (to oversimplify).
---
Hopefully, these examples give an idea of the kind of compositional considerations which go into creating an artistic expression. Hopefully, these also make clearer the concept that pictures have content, there to be read. Artistic creations are (usually) expressions based on visions. They're about something, and their compositions are derived from their intentions.
---
Bristlecone Pines, White Mountains – Pinus longaeva
I & R with Phone


All pictures and text are © Mike Spinak, unless otherwise noted. All pictures shown are available for purchase as fine art prints, and are available for licensed stock use. Telephone: (831) 325-6917.