[Originally published on Photo.net on March 13th, 2003. Then posted on my old website, in April 2006.]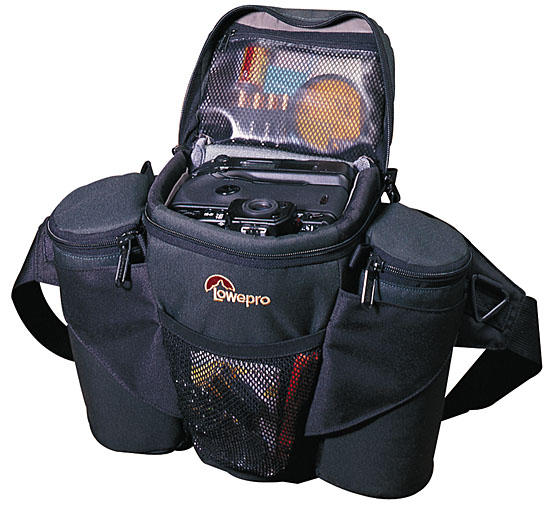 This picture of the Lowepro Off Trail 2 Trekker Beltpack was downloaded from Lowepro's website, hosted on my server, and displayed here, with the permission of Maury Cohen, Lowepro USA.
---
Single lens reflex cameras are getting bigger. Even as micro-electronics shrink by leaps and bounds, the pace of sticking more stuff into camera bodies (multi-segment exposure meters, ever more autofocus points, diopter adjustability, computer connectivity, etc.) is more than outstripping any potential size decrease. Add to this the camera makers' appeasement of the public's demand for better viewfinders (read "larger prisms") and longer lasting (again, read "larger") batteries, and you get gigantic beasts such as the Minolta Maxxum 9, the Nikon F5, and the Canon 1V.
The instant I pulled my Canon EOS 1Ds camera out of the box, I knew I would need a larger case to sheath this behemoth. Thus, I came to purchase a Lowepro Off Trail 2 Trekker Beltpack. As one of the few fanny pack style camera holsters large enough to fit the largest modern SLRs, the Off Trail 2 helps fill an important niche for those who want to travel as fast and light as possible with their jumbo-techno cameras. The integration of the main camera compartment directly to the pack's belt keeps things light and minimal, and places the weight primarily onto hips (where it will be least tiresome and best balanced). The top-loading holster style of the main compartment makes it possible to access the camera fairly quickly, and with a minimum of fuss. The removable/interchangeable sidepockets allow for flexibility to go even less encumbered, or to carry somewhat larger items.
---
Construction Quality, Materials, and Workmanship
The high quality of the construction and workmanship is readily apparent (at least to me; I make a lot of my own gear). The individual fabric panels that the Off Trail 2 is made from are each about as large as the design allows for, with a minimum of unnecessary seams to rip or leak. Each panel is cut to shape very precisely. The stitching is tight, uniform, free of bunching or loose threads, and without flaws. Every high-stress area seam is either double-stitched or bar tacked. The materials are well chosen and sturdy: self-repairing #8 YBS coil zippers with coated sliders; welded steel D rings with brass plating; urethane coated 600 denier textured poylester fabric with an industrial version of Scotchguard finish; and 600 denier ripstop textured polyester with the same coatings mentioned above. In case these materials are just meaningless jargon to you, here's the translation: The zippers are super-tough, and as reliable as zippers get. The metal rings are stronger than necessary for a small camera pack, and also corrosion resistant. The fabric is fairly hard-wearing, very resistant to ultraviolet rays from sunlight, nicely waterproofed, and reasonably stain resistant. Where necessary, extra tear-resistance is added to the fabric.
Three areas of the materials and construction which I feel could be improved are as follows: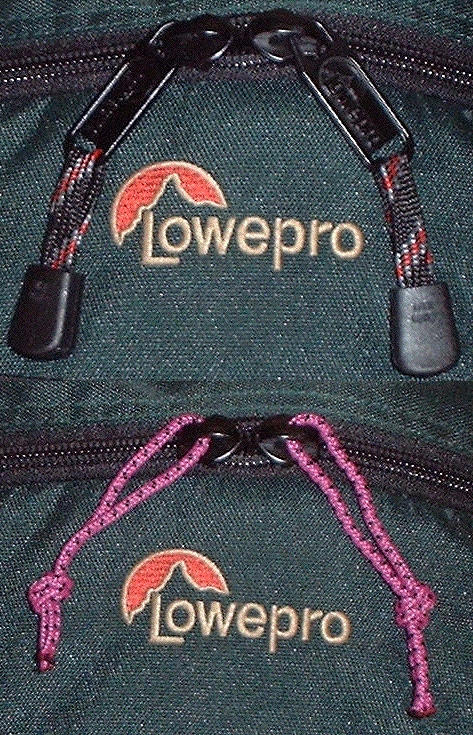 Top: metal zipper pulls on Off Trail 2. Bottom: metal zipper pulls have been removed and replaced with cord.
• First, the metal zipper pulls jangle loudly, and are thereby not suitable for most wildlife photography. Optimally, LowePro would remove the metal zipper pulls for you, and replace them with cord zipper pulls. Since they don't, you'll have to do it yourself. It's very easy.
• Second, the flat areas and edges along the bottom of the pack should be reinforced with patches of extremely abrasion-resistant material. Those areas will get abraded every time I shimmy down a steep grade on my backside, and will be exposed to wear every time I put the pack down or lift it, or sit down while wearing it. Patches of a material such as Hypalon (synthetic rubber impregnated fabric, the stuff pontoons are made of) would greatly extend the life of the Off Trail 2.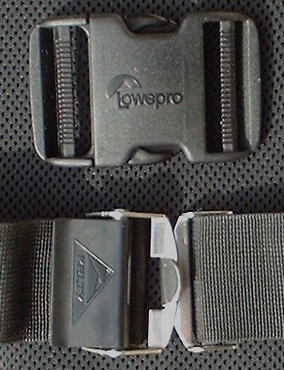 Top: resin quick-release buckle which comes on Off Trail 2.
Bottom: Kelty Cam-Lock steel buckle replacement.
• Third, the waist belt buckle (Lock Monster SS-2, made of "Duraflex", and designed by National Molding) doesn't inspire my confidence. LowePro claims that these buckles "are made from a flexible resin, chosen to make the buckles slide in very quietly and prevent breakage". To be fair, I haven't broken the LowePro resin belt buckle, so my concern about it's fragility is entirely conjectural. However, after breaking many very similar buckles on packs made by Dana Design, Mountainsmith, Osprey, Wilderness Experience, etc., I've lost my trust that "plastic" belt buckles are suitable for waist-belt use. I now replace all plastic waist belt buckles with steel cam buckles (Kelty Cam-Lock Buckle). These buckles are not only far harder to break, they are also quieter and, in my opinion, easier to use.
---
Design
The Off Trail 2 is a purpose-built pack for owners of large SLRs, to get them to their destination with the gear they need to get their pictures. It is meant to nimbly carry everything necessary for an afternoon excursion over difficult terrain, and nothing more. To do this successfully, it must (A) hold the gear you need, without waste, (B) transport the gear safely enough for it to survive intact, (C) be comfortable enough for you to use it at length. So, let's see how it meets each of those criterion:
Holding The Necessary Gear: The main camera compartment of the Off Trail 2 is a size I really like. As though my Canon 1Ds isn't large enough on its own, I have a Really Right Stuff quick-release L-plate attached to it, and also an electronic shutter release cable. With all of this, the mouth of the Off Trail 2 is just wide enough for the the camera to fit snugly. The case bulges a little, due to the L-plate mounted camera inside. This makes the pack just slightly less comfortable to wear, but keeps the outside dimensions of the case as small as possible, and holds the camera securely. Most of the time, I keep a 24-70 mm f/2.8 lens, with the lens hood mounted forward, on the camera. This fits precisely into the depth of the main compartment. Alternatively, the depth of the case will take a 50 mm f/1.4 with room at the bottom for a teleconverter or extension tube. For general use, the size of the main compartment is just right.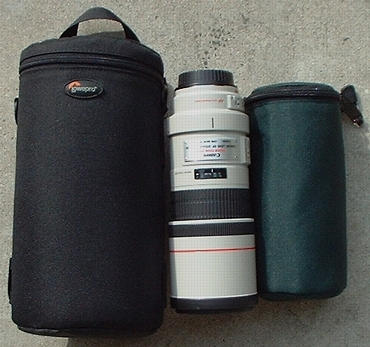 Right: lens pocket which comes with the Off Trail 2. Center: Canon 300 mm f/4 L IS lens–clearly larger than case at right. Left: LowePro Lens Case 4, bought separately to accommodate my lens needs.
The side pockets which come with the Off Trail 2, however, are smaller than I think the standard lens cases for this pack ought to be. I wanted to keep a 16- 35 mm f/2.8 lens, along with a 1.4 teleconverter and an extension tube, in one pocket, and then keep either a 70-200 mm f/2.8 or a 300 mm f/4 in the other pocket. (That would give me flexibility to shoot wide landscapes, extreme close-ups, and a fair amount of wildlife, in a tolerably compact package.) All are common lens choices. None fit into these side pockets (nor the main compartment). The lens hood of the 16-35 is too wide, as are the barrels of both the 70-200 and the 300 lenses. Further, the 300, the 70-200, and the 16- 35 with a teleconverter and extension tube, are too long for the side pockets. I had to additionally purchase two of Lowepro's Lens Case 4, in order to fit my desired lenses. If your lens needs are similar, you will have to do the same. I think the size 4 lens cases should come as standard on this pack, and the smaller size should be the optional additional purchase.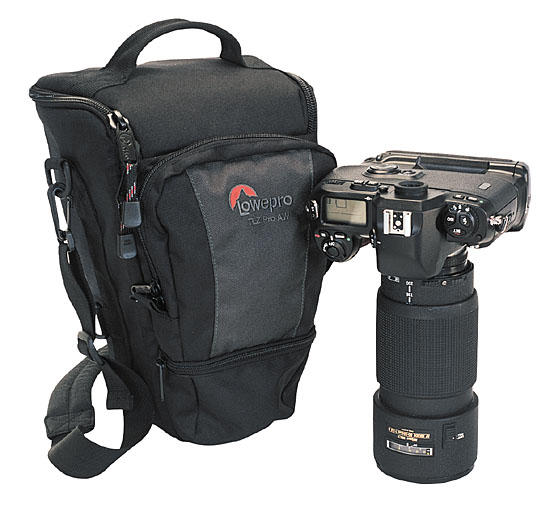 Lowepro Topload Zoom Pro AW: note the large zippered front pocket.
This picture of the Lowepro Topload Zoom Pro AW was downloaded from Lowepro's website, hosted on my server, and displayed here, with the permission of Maury Cohen, Lowepro USA.
Surprisingly, the main camera compartment of the Off Trail 2 does not come with a moderately large, three dimensionally contoured, fully enclosed, zippered front pocket, as LowePro's very similar Topload Zoom models do. Instead, it comes with a small and tight mesh pocket with an open top. I can just barely fit a single 77mm filter with its protective case into this pocket; and I'd avoid putting valuable small items in the mesh pocket, due to concern that they'd fall out. This mesh front pocket is almost useless for me, which is doubly frustrating because I need one (to hold some lens cleaning fluid and pads, a blower, a couple filters, a spare compact flash card, and a double-bubble level), and because (as the front pocket on the Topload Zooms show) Lowepro recognizes the need and knows what to do about it.
The Off Trail 2 does come with a small, zippered, flat top pocket, and a small, zippered, flat pocket on the inside of the top flap. These are both better than nothing, but their small value becomes almost negligible when you stuff a big camera body into the main compartment, leaving no excess room to put anything into these two zippered pockets. Ultimately, I find that the Off Trail 2 lacks any practical area for carrying the several small items that most photographers need, in addition to their camera and lenses. I mentioned earlier that the flats and edges along the bottom of the Off Trail 2 should be reinforced with abrasion resistant materials; and I recommended Hypalon. To further work this idea: I think that it would work nicely if Hypalon patches extended partway up the front of the camera compartment, and had slits in them for attaching a usable front pocket. I'll probably add this, myself, eventually.
Keeping The Gear Safe: The Off Trail 2 deserves high marks in terms of its level of impact protection. Everything is thickly padded with quality padding of the right density. It would be possible to use even thicker and heavier padding, or even to use a hard shell, but, realistically, the Off Trail 2 protects your gear from impact as well as possible without compromising other aspects of the design.
The same is not true for the water resistance. The compartments are not totally waterproof. They are made of waterproof materials, and have very nicely made overlapping zippers, for protection from water and sand. I appreciate that these packs are designed with water resistance in mind. However, it is not hard to make completely waterproof/dustproof camera bags. I know this from first hand experience, from modifying my Photoflex Galen Rowell camera pack so that it was fully submersible. (Good thing, too; I've slipped in rivers and submerged that pack, twice, and been caught in sandstorms in Anza Borrego and Canyonlands.) A pack intended for "Off Trail" use should, in my opinion, be totally waterproof. To be fair toward Lowepro about this, I want to make clear that these packs are built for much better water resistance than most. I just wish this company which opens its catalog with the question "What does it take to be a leader?" would lead the industry by making their hardcore outdoor-use camera packs completely waterproof. I guess I'll have to waterproof the Off Trail 2, myself.
Comfort And Ease of Use: Before any meaningful discussion of pack comfort, the reader needs to understand the inescapable reality of carrying heavy gear. There are no magic packs which make heavy loads seem weightless. There are no magic packs which make you forget about the weight. Unless you start attaching helium filled weather ballons to your pack, weighty loads will always be burdensome. A good pack will make a heavy load merely burdensome; a bad pack will also make the load exhausting and painful. With a notable exception (which will be addressed below) these are good packs, which will not leave you unduly exhausted and pained.
I put larger side pockets on my Off Trail 2. I carry around a Canon EOS 1Ds, a 16-35 mm f/2.8 lens, a 24-70 mm f/2.8, a 70-200 mm f/2.8 or a 300 mm f/4, a teleconverter, an extension tube, and a few odds and ends. Sometimes I strap my tripod across the top. The total weight, depending on my configuration on any given day, comes out to be between 15 and 20 pounds – toward the upper limit of what the Off Trail 2 is designed to handle. Yet the pack does handle the weight, and handles it with aplomb. The waist belt, while not padded nor contoured, is designed well for distributing the weight evenly and conforming to my body. A contoured, padded belt could, indeed, be made a little more comfortable than this waist belt. But, in my opinion, it would not be worth the added weight, bulk and expense. The triangular-winged compression straps go over the lens pockets, which helps to pull the entire weight of the pack close to your body, and prevents the pack from swaying. Very nice. The mesh covered pad on the back of the main compartment (the part resting against wearer's rear) is as comfortable as one could reasonably expect.
The pack is a breeze to use. Everything is straightforward. None of the strap adjustments are perplexing to figure out. Nothing is baffling nor horribly inconvenient. LowePro's SlipLock system for removing or intechanging the side lens pockets does hold them securely, and does make changing or taking off pockets quick and easy. The modularity of the Off Trail 2′s side pockets greatly expands the pack's scope of use. My only minor quibble with the main pack body is that I would prefer if the top flap on the main camera compartment opened away from my body, instead of into my body.
The notable exception to comfort and ease of use, which I mentioned above, is the shoulder strap. Shoulder straps are necessary for camera beltpacks partly to distribute the weight, and mostly to minimize bounce. Everything else about this pack reflects field experience and displays clever design. Yet the shoulder strap fails to be comfortable, fails to be easy to use, and fails in most every way possible.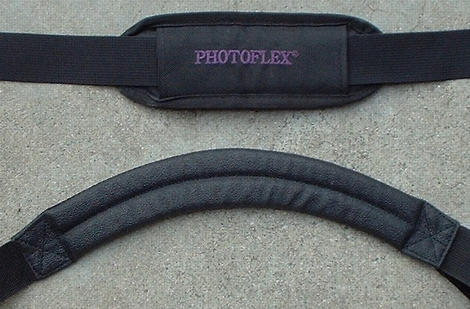 The Photoflex Galen Rowell's shoulder strap's pad, and the Lowepro Off Trail 2 shoulder strap's pad. The Galen Rowell's pad slides on a straight strap. The Off Trail 2′s pad is curved and sewn into the strap.
Lowepro's catalog touts the fact that Greg Lowe invented the ergonomically contoured shoulder strap. Unfortunately, this "ergonomic" curve built into the shoulder strap is the most significant negative issue with the Off Trail 2 Trekker Beltpack. Shoulder straps need to bend in two different dimensions: 1) From left to right to left, or right to left to right, across your body (i.e., from one hip, up over the opposite shoulder, and then back down to the other hip) ; and 2) up and back down, from hip to shoulder back to hip. The "ergonomically contoured" shoulder strap is curved in only one of these two dimensions (curved sideways), with the inside of the curve shorter than the outside of the curve. When you put the Lowepro shoulder strap on, the result is that the inside of the curve digs into your shoulder like a wedge, while the outside of the curve doesn't come close to touching your shoulder at all. By concentrating the downward pull 100% on the inside edge of the curve, the shoulder strap becomes markedly painful, after a few minutes of wearing it. This curve makes the shoulder strap intolerable for frequent, prolonged use. This is particularly sad because it is trying to solve a problem which doesn't exist. Straight (non-contoured) shoulder straps contact your shoulder along their entire width, and distribute the weight over as much surface area as possible.
Another negative aspect of this design is that, by sewing the shoulder pad directly into the strap, the pad's placement relative to your shoulder becomes slower and more difficult to adjust. Instead of simply sliding the shoulder pad to where you want it (as can be instantly accomplished with the Photoflex strap), you must now adjust the shoulder pad's placement, relative to your shoulder, by shortening the strap on one end and lengthening it on the opposite end, by means of pushing and pulling the strap ends through buckle sliders. If you like to occasionally switch which shoulder you put the strap over, like I do, this becomes a several minute hassle of careful readjustments, every time.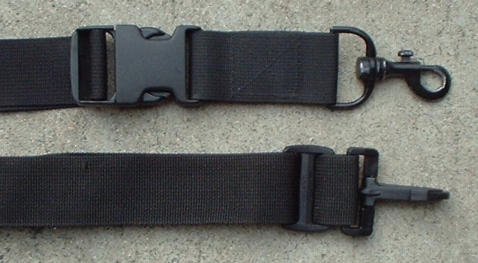 Comparison of hardware on the end of shoulder straps. On top is a Photoflex shoulder strap, with rotating steel bolt spring snap hooks and a side release buckle. On bottom is the Lowepro shoulder strap, with non-rotating plastic hangman snap hooks, and single bar sliders.
The mediocre hardware choices for the ends of Lowepro's shoulder straps also make them unnnecessarily slower and harder to use than they should be. The hangman snap hooks on the Lowepro shoulder strap are slower and more difficult to operate than the bolt spring snap hooks on the Photoflex strap, especially with gloves on. Because the Lowepro' shoulder strap's snap hooks don't rotate, it is necessary to completely unhook and refasten the strap when it is twisted. While the side release buckle on the Photoflex strap allows you to easily put on or take off their shoulder strap without completely removing the pack, the Lowepro shoulder strap does not allow this facility.
The shoulder strap on the Lowepro Off Trail 2 is so uncomfortable and awkward to use that any potential buyer should consider a replacement shoulder strap to be a requirement.
[Edited to add: The best shoulder straps I've found are those which come on Incase laptop cases.]
---
Summary and Conclusion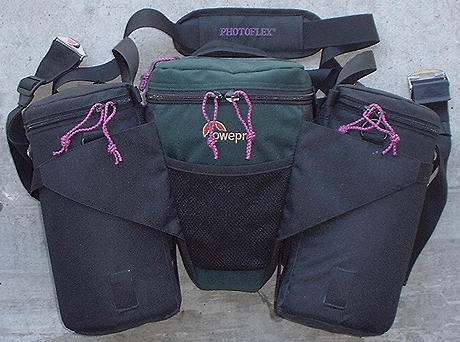 Modified Lowepro Off Trail 2, with Lens Case 4 replacements for the original side pockets, zipper pulls replaced with cord, plastic waist belt buckle replaced with a steel buckle, and the original shoulder strap replaced with the shoulder strap from my Photoflex Galen Rowell camera bag.
The Off Trail 2 is very well made, and pretty well designed. It is very comfortable, other than the shoulder strap. It offers good gear protection from impacts. The pack is fairly water resistant; but I'd prefer if it was totally waterproof. It could use larger lens pockets, and a decent front pocket for camera sundries. The zipper pulls can jangle, and wildlife photographers will need to remove them and replace them with cord loops. The waist belt buckle looks too fragile to me. You might want to replace yours with a steel buckle. The pack would last a lot longer if the bottom was reinforced with more abrasion-resistant material. The shoulder strap is painful, annoying, and requires immediate replacement.
I have a lot of small criticisms for this pack, and one major one. Nevertheless, it is a good pack – much better than average. Please don't miss that point through my critical, demanding look at how this pack could (should?) be made as best possible. If you are an occasional and casual photographer, none of these problems should bother you much. If you are a more intensive photographer, then you should consider this pack a very good starting platform for creating a superb camera pack, but should not go into the purchase with the belief that it is already a honed end-product. This pack needs modification, before it will be ready for intensive outdoor photography use. By the time you are finished modifying it, you are likely to pay half the cost of the pack over again. For me, at least, it was well worth it.
If you have a very large SLR, and you want to pack it into a holster with an integral waistbelt and modular lens pockets, for traveling light and fast through the outdoors, then you want this pack. The Lowepro Off Trail 2 Trekker Beltpack is the only product of its kind that I've found. It has a lot of potential, but it has not quite achieved its full potential, yet.
---
UPDATE 1:
Within hours of the original publication of this review, in 2003, Maury Cohen of Lowepro USA called me. He told me that my criticism had been heard and discussed, and that many of my suggestions will be implemented. True to his word, when the next season's line came out, several of my suggestions had been implemented. Specifically: 1) they started using quiet zipper pulls; 2) they started putting Hypalon patches in high wear areas; 3) they put slots in the Hypalon patches, to be used as attachment points for cases and gear; 4) they started making truly waterproof packs. I was (and still am) enormously impressed with Lowepro's responsiveness.
UPDATE 2:
I eventually (3 years later) also bought the Lowepro Topload Zoom AW camera case, too. Of course, I heavily modified that to my needs, also – so much so that I jokingly call that one "The Frankenpack". I continue to use both camera packs, regularly – choosing between them depending upon my expected use on a given outing.
---

All pictures and text are © Mike Spinak, unless otherwise noted.. Telephone: (831) 325-6917.