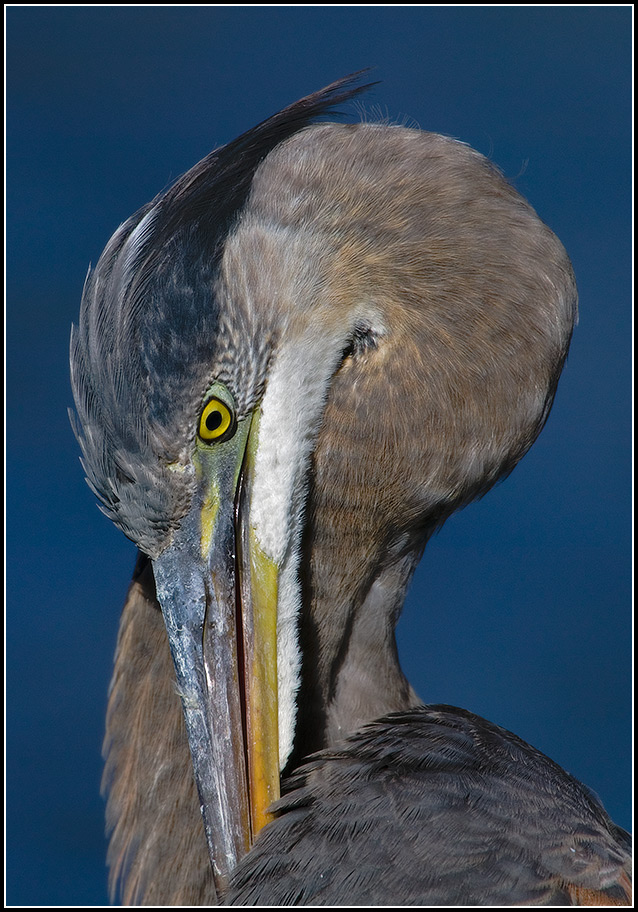 [Editorial note: This article was first published on Photo.net on March 18, 2003. It was expanded and republished on my Naturography Blog, on September 4, 2009. I'm reposting it (as I'll be doing with almost all of my content elsewhere), here on my newly re-done website.]
Extreme sharpness is frequently of little consequence to a picture's quality or worth, but it is often a desired property. Many people go to all kinds of extremes for the sake of sharpness, such as buying expensive lenses and/or high resolution digital cameras, testing their lenses by photographing resolution charts, and memorizing MTF (modulation transfer function) charts. Unfortunately, most of these people, nevertheless, will not often achieve stellar sharpness because they don't know how – do not know the techniques to employ and the pitfalls to avoid – to handle their photo equipment toward the goal of maximum sharpness. The primary sharpness-limiting factor for most photographers is inadequate technique, not inadequate optics. Someone who knows and practices excellent technique can usually easily get sharper results out of a cheap zoom lens than the results achieved by somebody who uses an optically superior (and vastly more expensive) prime lens with poor technique.
I'm going to side-step the (surprisingly complicated) issue of what sharpness actually is (there's plenty of better material on that subject available from others on the 'net than I could give you, here), and get right to the specifics of technique for obtaining the best sharpness you can out of your photographic system. My discussion will necessarily be incomplete because of the inordinately large number of possible ways to refine sharpness-oriented photographic technique. Hopefully, it will be enough to be useful to many readers. Please feel welcome to add your own suggestions to the discussion, through feedback in the comments section.
---
• Use a sturdy tripod when you can.
This one seems obvious – except that many people who seem to want sharpness don't use them (often due to inconvenience), despite having them readily available. There's nothing wrong with choosing not to use a tripod, if you have chosen to prioritize ease and spontanaeity over sharpness. However, when sharpness is your aim, good hand-holding technique rarely compares favorably to tripod use. A lot of people are under the impression that keeping your chosen shutter speed denominator larger than the number in millimeters of focal length of the lens you're using produces equivalent results to using a tripod. (For example, a shutter speed of 1/250th of a second, wihen shooting with a 200 mm lens.)  Generally speaking, it doesn't. It's better than nothing when a tripod is unavailable, but will still usually allow for several times as much camera shake as a tripod would. Therefore, it is likely to require a shutter speed several times as fast as focal length to equal the results from a tripod. The same applies to monopods, though perhaps less so.
• Lock up your mirror when you can.
Single lens reflex ("SLR") cameras use mirrors to deflect the light coming in through your lens from the film plane/sensor, in order to redirect the light through the prism and out the viewfinder to your eye. In order to take a picture, most SLR cameras need to swing the mirror which deflects the light out of the way, so that the light can travel straight to the film plane/sensor. Swinging the mirror out of the way the instant before an exposure is made (and then suddenly stopping the mirror at the top of its path) has the drawback of inducing a significant amount of vibration ("mirror slap" or "mirror bounce") during the period when you are making your exposure. The solution which many cameras offer is an option called mirror lock-up ("MLU"), which, when activated, locks your mirror in the upright position in advance of taking your exposure, so that your recorded image is not affected by these vibrations. Further, your lens's aperture normally "stops down" to your chosen F stop in the same instant immediately before exposure, thereby causing a secondary source of vibrations–but many cameras with MLU are designed to pre-fire the aperture along with the mirror, thereby also eliminating this secondary source of vibration. Mirror lock-up is often idled when it could easily be used, partly because it means more camera controls to set during the heat of picture taking, partly because of the inconvenience of losing the ability to see through your viewfinder the instant before exposure, and partly due to ignorance of what a large difference to sharpness locking up the mirror can make. For exposures with shutter speeds in the range from between about 1 second to 1/125th of a second, locking up the mirror can as much as triple your picture's resolved detail.
• When you can't lock up the mirror, mount the camera horizontally.
For pictures where maximum sharpness is important, MLU is not feasible, and you must use a shutter speed in the most problematic duration range, you can mitigate mirror induced vibrations better with the camera mounted horizontally than mounted vertically. The mirror-induced vibrations are primarily in the camera's top-bottom direction, not the side-to-side direction. When you have your camera mounted horizontally, then these vibrations are in a direction which is opposed by the tripod beneath the camera; when you have have the camera mounted vertically, there is nothing opposing the direction of the vibrations.
• Use a remote trigger.
Another major source of shake on a tripod-mounted camera is pressing the button to take the picture. Many people jab the trigger button with clueless enthusiasm, but even pressing it slowly and gently can cause significant camera movement during exposure. The solution is to trigger your camera remotely, either with a cable release, an electronic cable release, or a remote control – all of which remove the button you are pressing down upon from the camera body, so that you are not pushing the camera around while making an exposure. If you do not have any of these avalable, then use your camera's timer to take the picture a few seconds after you press the button.
• Use the heaviest equipment you can.
It's not fun to lug heavy equipment around, but heavy equipment has a distinct advantage for taking sharp pictures: overcoming the inertia of heavy objects requires more force. A given force – the shutter's flip, a stiff breeze, whatever – will move a heavy camera with a heavy lens on a heavy tripod less than a light camera with a light lens on a light tripod. (One exception to "heavier equipment is better" is carbon fiber tripods. While aluminum tripods often have a tendency to transmit vibrations furiously, almost like ringing a bell or tapping a tuning fork, carbon fiber tripods tend to dampen vibrations very well. This property more than makes up for the decrease in inertia from the lighter weight.)
• Weight your equipment.
For the same reason given in the suggestion above, you can facilitate maximizing sharpness by adding weight to your equipment. Tripod manufacturers offer several pre-made options for adding weight to your tripod. Some tripod manufacturers include a "stone bag" designed specially for filling with rocks on location and hanging from your tripod legs. This can effectively add mass to your equipment, but has several problems which prevent me from being satisfied with the method: 1) it's an unncessary extra item to carry around and keep track of; 2) it's a significant extra time-waster to fool around with when trying to be swift but throrough in setting up to take a fine picture; 3) the bag can swing in the wind, reducing stability and sharpness; 4) it is too high-impact (i.e., its use involves defacing the landscape for the sake of pictures). Alternatively, some tripod makers put a hook on the bottom of the center column, for hanging your camera pack. I'm not content with this solution, either. Firstly, objects hanging from the hook can swing in the wind like a pendulum. Secondly, hanging weight from your center column not only serves the intended purpose of adding weight to the tripod rig, it also inadvertantly adds a great deal of leverage against the rigidity of the center column's clamp. Thirdly… well… read the next paragraph. Instead of these two methods, I bought a length of 1/4 thick bungee cord (a core of bundled rubber strands sheathed within a woven nylon mantle) and tied one end to my tripod's center plate and then knotted some loops along its length. When I use the tripod, I stick my foot through a loop in the bungee cord and step on it to create 20 or more pounds of downward pull. Simple, quick, cheap, and effective. It can also be a good idea to add weight to your camera and lens, especially with long focal lengths. Some photo accessory makers offer bean bags or sand bags for this purpose. They come in two varieties: full and empty. Full has the disadvantage of the weight and volume of carrying a bean bag. Empty has the disadvantages of taking time to fill, unnnecessarily impacting the land, and tending to unnecessarily dust up your equipment. I find it works better to just rest my arm on my camera and lens, gently pressing down on the lens and gently pressing my face into the camera with the equipment slightly tensioned, in order to add weight and quell vibrations (a critically important technique for taking sharp pictures with focal lengths beyond 600 millimeters).
• Get rid of your tripod's center column.
That's right: take it off and throw it away. Most photographers know that extending your center column works against sharpness, but most don't realize that the center column is still, to a lesser degree, decreasing maximum sharpness when it is unextended. Some popular tripods' "center" columns are even offset from the actual tripod center, and further, are made to be tilted into a cantilevered position in use (!), but even a more stably designed center column is likely the weakest link in a tripod's design. A center column will probably suffice for adequate sharpness in benign conditions, but will likely prove insufficient toward the goal of maximum sharpness in difficult conditions. Instead of a center column, make or buy a center plate which can be permanently attached integrally to your tripod leg set.
•When using long lenses, avoid pointing upward
Using the technique described at the bottom of the prior paragraph about weighting your equipment, stability will be greater when the camera and lens is neutrally balanced or pointing downward than when pointing upward. When neutrally balanced or pointing downward, you are leaning your weight into the equipment. When pointing upward, you are hanging off of your equipment. Leaning on your equipment increases stability while hanging off of it decreases stability. Positioning yourself at the same level as your subject or above your subject will allow for you to assume a more stable position when using your weight to stabilize your equipment.
• Use a short tripod head without a stack of extra accessories.
Tall tripod heads, such as the Bogen/Manfrotto 3265/222 Grip Action ball head, are somewhat like using an extended center column all of the time. Shorter tripod heads, such as the Really Right Stuff B-55, have lower centers of gravity and less leverage working against rigidity where they couple with their tripods. A stack of accessories attached to a tripod head, such as a Gitzo leveling base below and Really Right Stuff's B150/LMT/B2-FAB package (a rack and pinion focusing rail, with a clamp above it, a high-clearance lateral shifting stage above that, and a quick release plate on top) create a contraption which is both too high above the tripod to remain stable enough for maximum sharpness in difficult circumstances, and too multi-segmented to remain rigid enough. Save these specialty tools for situations where they are needed for overcoming specific problems; stick to the shortest and least segmented options available for normal circumstances.
• Keep your tripod's legs as unextended as possible.
People tend to extend a tripod's legs to the maximum height, without regard to stability or composition, so that they may see through the viewfinder at eye level. Tripods are at their least stable at their maximum height, and their most stable when fully collapsed. At maximum height, a tripod's center of gravity is as high and unstable as possible. At maximum extension, most tripods have two or three clamping joints per leg keeping the structure rigid; when fully collapsed, zero locked joints are necessary to keep the legs at their most rigid. At maximum extension, a tripod must make use of its smallest diameter leg sections; when fully collapsed, a tripod relies only on its largest diameter leg sections.
If it is necessary to extend the tripod's legs, stop an inch or so short of full extension on each leg section. This allows the tripod's leg locks to lock more rigidly against the leg sections than with the ends of the leg sections right against the locks.
• Center the camera's and lens's weight over the center of the tripod whenever possible.
Your equipment is more stable when its weight is over the center of your tripod than when it is off-center. Be aware of how you are placing the weight over your tripod, and make adjustments when necessary and possible to keep your camera and lens neutrally balanced over the center of your tripod. In addition to diligence, there are several types of photo equipment which can make balancing your gear well easier. Good lens collars help with this, both by shifting forward the point where the weight of your camera and lens rests on your tripod head, and by allowing you to turn your camera vertical without positioning your tripod head on its side. Choose collared models for large lenses, when possible. If the collar, or collar's foot, is poorly designed and induces a lot of vibration, replace it with an after-market one, if available. Long quick-release plates, or focusing rails, on your long lenses can also be used to adjust the weight placement of your camera and lens to its most neutrally balanced position. Quick-release L plates also help with centering the weight over the tripod, by allowing you to rotate the camera from horizontal to vertical without flipping the tripod head onto its side.
• Optimize ergonomics and comfort
When you must hold your camera or lean on your equipment awkwardly, the unsteadiness of your position can induce camera shake. When you are positioned very uncomfortably while taking a photo, you are likely to tremble. Choosing equipment you are comfortable with, and setting it up in a position that you can use ergonomically, helps prevent you from being a source of unwanted movement within your photographic system. Even when going against other tips within this article, improving the ergonomics and comfort of your photo-equipment and photo-taking circumstances often pays off with greater stability than more meticulous, but less comfortable, technique.
• Use Image Stabilizer or Vibration Reduction technology.
I can personally attest to the fact that Canon's Image Stabilizer technology works remarkably well. I've heard the same about Nikon's Vibration Reduction technology. Use lenses with these technologies when they are available to you. If you don't use these Canon or Nikon lenses, you might want to consider getting a gyroscope to attach to your camera, if you can afford it.
• Manually focus your lenses when possible.
It may take longer and be more difficult, but manually focusing can dramatically improve picture sharpness. Camera autofocus systems have mechanical limitations: autofocus systems focus in discrete steps. If optimum focus of your subject falls in the middle of two neighboring discrete steps– which is the case most of the time–then you can achieve sharper results manually focusing. Further, autofocus systems are less sensitive to contrast than human eyes, and therefore less able to achieve optimum focus. Most autofocus systems are calibrated to achieve focus of about 50 line pairs per millimeter–which is certainly very good, but nowhere close to what good lenses are capable of. Moreover, autofocus systems are dumb: they don't know exactly what you want to focus on; they just focus somewhere within that big autofocus selection rectangle. When you set your autofocus selection with the rectangle covering half of a bird's head, the autofocus doesn't know whether you want to focus on the bird's eye or its cheek feathers–which could be a critical difference when the depth of field is very shallow.
• Use your lens's optimum aperture.
The sharpness your lens is capable of achieving varies widely as the aperture size changes. If the aperture is too wide, the lens is most subject to loss of sharpness from lens aberrations. If the aperture is too narrow, sharpness will be lost due to light diffraction. Each lens has a "sweet spot": a middle point in the aperture size range where it is least affected by aberrations on the wide end and diffraction on the small end. This range varies by lens model, but is generally somewhere around f/5.6 and f/8. By placing your aperture within the f/5.6-8 range, you will have the potential for achieving sharpeness far beyond what is possible at such apertures as f/1.4 or f/32.
• Center the most detailed parts of the picture in the middle of the frame.
Your lens's sharpness also varies widely from center to edge. Most lenses are capable of far better resolution in the center than close to the edges, especially at their widest apertures. Moreover, lenses can vignette the edges and corners of pictures, making for decreased contrast in the details along the photo's edges, which also lessens perceived sharpness. Consequently, you will get the best sharpness results if you place the parts of your compositiion which are most detailed as close to the middle of your frame as possible.
• Use your zoom lens's optimum focal length.
The sharpness your zoom lens is capable of achieving not only varies widely as the aperture size changes and varies from center to edge; it also varies widely as the focal length changes. A zoom lens has a focal length "sweet spot" where it performs most sharply. Toward the shortest focal length the lens will be most subject to certain kinds of distortion, and toward the longest focal length the lens will be most subject to certain other kinds of distortion. At either end, the lens will be more prone to chromatic aberration than in the middle range. Somewhere in the middle the lens will be sharpest. You may have to resort to trial and error to figure out the focal length sweet spot, or you may be able to find the information. Sometimes it is supplied by lens manufacturers; sometimes it can be found in lens tests in magazines or online.
• Use your lens's optimum distance from the subject.
The sharpness your lens is capable of also varies as the distance of your subject changes, though this variation is usually much slighter than the levels of variation associated with the other mentioned aspects of lens use. Again, there is a "sweet spot" distance where your lens focuses best. However, unlike the sweet spots mentioned above, there is no particular tendency of sweet spots to be toward the middle distance. It is mostly a matter of how the lens was designed, based on what the designers considered the priority. Sometimes, these priorities are easy to figure out. For example, macro lenses tend to perform best around their closest focusing distance (though macro lenses also tend to be exceptionally well corrected for the entire range). For most lenses, you will probably need to figure it out through use.
• Take only one picture each time you press the shutter trigger.
If you set your camera to shoot as fast as it can, then hold down the trigger continuously for multiple exposures in a row (likely three or more frames per second, if you are using modern SLRs), the camera will not have time to quell vibrations between exposures, and thus, only your first shot will be able to approach maximum sharpness. When striving for all the sharpness you can get, give your camera at least a couple seconds between exposures, for the vibrations from the last exposure to cease, before shooting again.
• Take several exposures of the same composition or subject when possible.
Even if you are carefully adhering to the other suggestions in this article, you are likely to get some random variation in sharpness from one exposure to the next. Sometimes you can figure out why and ameliorate the issue; usually it is just one of those mysteries of life why duplicate shots taken three seconds apart can have different levels of sharpness.Your sharpest picture out of five or more is very likely to be sharper than your sharpest picture out of one. Thus, when sharpness really matters, you can stack the odds in your favor by making multiple in-camera duplicate exposures.
• Wait for the most opportune instant to take your picture.
Sometimes there are various environmental forces jiggling your camera and tripod. Wind and rumbling automobiles are two cases I run into quite frequently. If you are patient, you are likely to be presented with lulls in the wind and traffic. Making your exposures during such lulls in environmental sources of camera shake can make an enormous difference in sharpness.
• Choose contrasty subjects.
Contrast plays a big role in sharpness. You'll be able to see more of what your lens is capable of by shooting contrasty subjects. Further, optimally focusing, either with autofocus or manually, is easier with high contrast subjects. Choose high contrast subjects, highly textured subjects, and side-lit subjects.
• Use film quickly and process it quickly, or shoot digital.
If you keep roll film partly wound through a camera for weeks or months at a time, especially in changing temperature extremes, you might slightly warp your film so that it does not lay uniformly flatly at the plane of focus. Warped film will make exposures that are not evenly focused, even if you focused perfectly and did everything else right. Further, warped negatives or slides, regardless of whether the warpage occurred after the exposure and everything is in sharp focus on the film, will be very challenging to flatten during enlargement or scanning, and will make pictures that are unevenly focused. Warped film is more prevalent in medium format, but can be an issue in 35 millimeter format, too.To avoid these issues, get the partially finished rolls of film in your cameras finished and processed as quickly as possible, or use digital cameras with properly aligned and perfectly flat sensors.
• Use the best lenses you can.
Once you've eliminated most of the limitations imposed by technique, it may be worth addressing your lens's quality. Simply put, top quality lenses can, indeed, outperform the less exacting alternatives. Often by a wide margin. For example, having used both the Nikon 70-300 mm f/4-5.6 lens at 300 mm, and the Nikon 300 mm f/2.8 prime lens, I can tell you that the professionally- oriented prime lens was a dramatically more capable performer than the consumer-oriented zoom lens.
• Use a Fast Shutter Speed
Even tripod mounted cameras can often benefit from a fast shutter speed, especially in windy conditions, or when using long lenses. Faster shutter speeds cut down the amount of movement, from camera shake, recorded during the exposure. If there's any camera shake left in your system, then camera movement with a shutter speed of 1/1000th of a second will be half of that with a shutter speed of 1/500th of a second (and so on). Use the fastest shutter speed you can.
---
You may not be able to employ all of these methods, and you are very unlikely to be able to employ all of them all of the time. However, if you try as many of them as possible when you are seeking maximum sharpness, you'll be able to eliminate most technique-based limitations, so you'll be able to come as close as possible to your equipment's maximum potential sharpness performance.
---
Great Blue Heron Preening

All pictures and text are © Mike Spinak, unless otherwise noted. All pictures shown are available for purchase as fine art prints, and are available for licensed stock use. Telephone: (831) 325-6917.