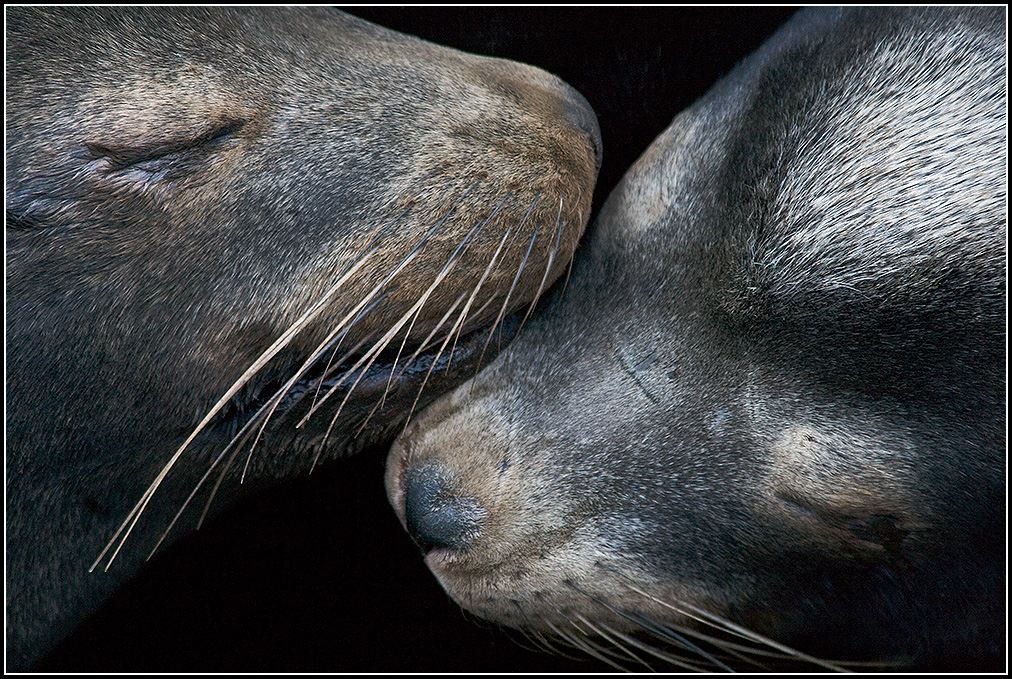 Almost all of the pictures shown in Naturography are available as fine art prints.
To purchase a print, please either send me a message through the contact form, or call me at (831) 325-6917.
The prices for my fine art prints are as follows: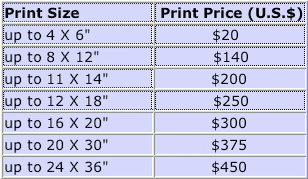 ---
All the details:
• Prints are usually on Fuji Crystal Archive paper
Fuji Crystal Archive is a true, light sensitive, silver halide photographic paper. I choose Fuji Crystal Archive paper for my prints because it's one of the highest quality for photographic reproduction currently available. For some prints, I choose other papers, if it's more appropriate for that picture. I always choose the highest quality papers.
• Matte or glossy finish
My standard finish for your prints is matte, unless you specify that you'd prefer glossy. I always prefer matte.
Glossy is a very smooth finish which has slightly higher contrast, making the colors appear a little more saturated, and making fine details appear slightly crisper; but it is a little harder to see the picture, due to reflections and glare. Matte is a finely stippled finish with a touch lower contrast, saturation, and apparent detail; but it is easier to see the picture, because it is less reflective.
• Sizes refer to paper size, not photo size
Photo paper comes in standard sizes. My pictures are not always in the same height-to-width ratio as the standard paper, and therefore not always the same size. Prints are made onto the closest available standard sized paper upon which the picture will fit, with a border around the edges.
• Border color
The standard border color is white.
Border colors on the photo paper around the image can be white, gray, black, or the color of your choosing.
• Signature
I sign pictures in ink, on the bottom right corner, and I number and date pictures on the back, in pencil.
If you prefer something different, let me know.
• Shipping
Your print will be shipped through the United States Postal Service, unless you specify otherwise.
The shipping charge is not included in the price listed above; it will be added separately. You can specify which carrier, and what kind of shipping you want, and I will do my best to accommodate you. My charge will be the actual shipping cost.
• Copyright
Your print purchase does not include any licensing nor transfer of copyright. It does not entitle you to duplicate this photo, neither as a print nor digital file. If you would like to license copyrights, please contact me and we can make the arrangements.
• Questions and/or special needs
If you have any questions or special needs, please feel welcome to call me or email me, and I will be happy to discuss them with you.
---
Here's what people have to say:
"Your extraordinary talent has never been more evident than in your haunting and heartwarming Sleeping Sea Lions series.
I'm impressed with the technical skill required to capture these animals in intimate slumber, but I'm blown away by the empathy and vision that drove you to document them from this uniquely powerful perspective.
I love the muted blue and gray palette and the juxtaposition of velvety textures and intriguing "scar-scapes" …and I never get tired of looking at them. These lush, peaceful images touch my heart so much that I redesigned my bedroom around them.
Thank you, Mike, for creating these… they're simply amazing."
Liss Sterling
"I love the photo… Thanks so much for your wonderful artistry!"
Tamera Goldsmith
"I am very proud to have this hanging pride of place in my house."
Geraldine Dukes
"I love the print of ours that graces our walls!"
---

Sleeping California Sea Lions
All pictures and text are © Mike Spinak, unless otherwise noted. All pictures shown are available for purchase as fine art prints, and are available for licensed stock use. Telephone: (831) 325-6917.