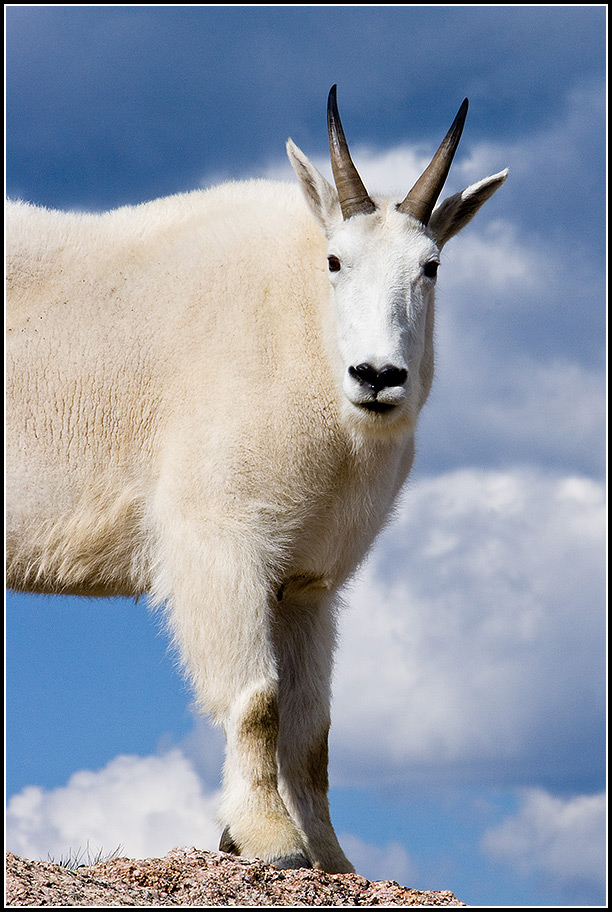 ---
I sometimes get asked how I manage to approach wild animals so closely, to get these photos.
For many nature photographers, stalking wildlife means things like moving very slowly, avoiding eye contact and not looking at the animal, wearing clothes which are visually confusing about body shape and contours, using scent-free soaps and cosmetics, and so on, while closing the distance to the animal as much as possible. For some others, it means speaking softly to animals as you approach them, to let them know you're friendly; maintaining eye contact, to recognize signs of behavioral changes which indicate when you are beyond the animal's comfort zone; and the like.
These kinds of techniques are valid and relevant. (Just keep in mind that, in most circumstances, it's silly to think you can sneak up on these animals while they remain unaware of you; the goal is more to prevent them from getting alarmed by your approach, rather than to be unnoticed.) I use these techniques, too, as often as necessary – which is fairly often, with unplanned animal encounters. However, while these techniques have a solid place in wildlife photography, they are not the main part of the equation, for me. In fact, I consider walking up to wild animals not-preferable; I prefer a different technique, when possible.
My preferred technique is to let the animals come to me. Animals coming to you will, generally, come much closer than they will let you come to them – and they will be more comfortable, and behave more naturally, when they do.
So, how do you get animals to come to you? It's largely a matter of figuring out where they will want to be, and being there, first – placing yourself by the only watering hole for miles around, before dusk; placing yourself by the good sunbathing rocks where cold blooded animals will want to warm themselves, before daybreak; placing yourself by the food source where the animals will need to come and feed; placing yourself by the path the animals must walk along; placing yourself by the best perch in the area; and so forth.
If you haven't tried to plan close encounters with wildlife by going where animals want to be, first, and thereby getting them to come to you, then: please do yourself a favor, and give it a try.
---
Mountain Goat (Oreamnos americanus), Mount Evans, Colorado

All pictures and text are © Mike Spinak, unless otherwise noted. All pictures shown are available for purchase as fine art prints, and are available for licensed stock use. Telephone: (831) 325-6917.