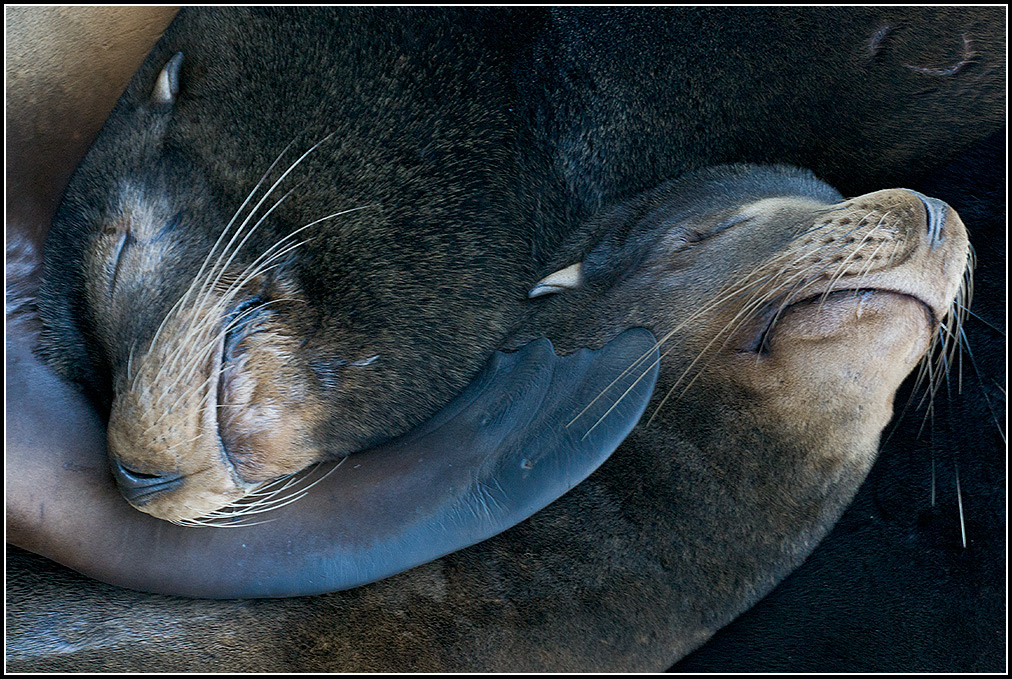 ---
[Editorial note: This is the ninth part of a loosely related series about content, composition, and communication, which started here.]
---
Regular readers have doubtless noticed that I've been posting a related series of pictures in my blog posts, for the last couple weeks. These pictures come from my Sleeping Sea Lions photo project.
Working on a photo project has benefits. It shifts the photographer from relying on chance opportunity toward proactively making purposeful decisions. Revisiting a project's subjects and / or themes on numerous occasions allows you to get to know your subjects and themes more intimately, deeply, and thoroughly. It gives you a chance to learn the ways of your subjects, and gives you more opportunities to catch photos of your subjects during significant moments. Projects force you to repeatedly exhaust what you have already seen in your subjects, and then see them anew. Projects can allow you to think more carefully about exactly what you are trying to do, and why, and how to accomplish it. Through the processes of making a project, you have the opportunity to introspect, and you may come to discover a great deal about yourself as a photographer – you may learn better what resonates with you, why you are a photographer, what you want to say, and what your artistic voice is. Projects can allow you to do your best, and push you to be your best.
I suggest that those who want to further themselves photographically as image makers, in addition to being documenters, and those who want to create a satisfying body of work, consider doing photo projects.
---
As I explained in my post about Examples of Artistic Communication, I prefer not to spell out what I'm trying to communicate in my pictures, and how I compose toward these ends. Nonetheless, if it may help illustrate the processes of creating a project – here goes:
I started this project three years ago. When I started it, I chose the project for a couple reasons.
• One reason is it allowed me to combine my idiosyncratic photography predilections.
I've always had a fascination with photographing people and wildlife while they sleep. I like the way that people and animals drop certain aspects of themselves and reveal other ones. People and animals show a different and beautiful side of themselves when they sleep.
I've tended toward a style, as a wildlife photographer (and also as a floral photographer, fungal photographer, and nature photographer, generally), where I often show my subjects from very close, and where I like to depict them as individuals with individual characters, through a perhaps somewhat "portraitist" manner, in addition to showing them as documentary examples of morphology and behavior.
• Another reason is because sleeping sea lions have (or, more accurately: can have, when the potential is seen and the effort is made) visual qualities that I like, photographically speaking.
I've been intrigued by the constrained color palettes, the tonality, the patterns, the textures, and the lines I could find within scenes of sleeping sea lions. Moreover, they're subtly covered with captivating motifs of battle scars. Also, I was fascinated by the almost luminous quality I could achieve in the way the light plays upon their fur. Further, they have an appearance that can be wonderfully balanced between the familiar and the foreign – at times appearing human-like, at times appearing dog-like, at times appearing bear-like, but ultimately always coming through with a look all their own. Finally, I felt – something – in the expressions upon their faces when they slept; it spoke to me of the eternal verities, and it touched me.
Then, during the period I was working on the project, I experienced personal crisis. A relationship with someone I loved went terribly wrong, and ended shockingly, with her acting upon less than her best behavior. This brought out from me less than my best behavior, in response.
This made me see what I had already observed in the sea lions with greater clarity and intensity of purpose.
Sea lions, when awake, can often seem like extraordinarily temperamental and unwarrantedly vicious animals toward their peers. They often attack each other for seemingly the slightest infractions; for example, I often see them chomp into each others' sides, leaving bloody wounds and permanent scars, apparently just to get one to scoot aside so that the other may more easily move past. Seemingly, almost every encounter leads to a baring of fangs, barking and growling, snapping and striking; and they're covered with scars and open wounds, mostly caused by each other. Their bellicosity seems endless.
Except when they sleep. They all sleep together, and it's a magical phenomenon to behold. They sleep with anybody and everybody. They press into each other and make a solid carpet, so tight that no ground is visible between them. They pile on top of each other, sometimes 3 or 4 deep. They press their bodies together in the most intimate ways, face to face, or face pressed to anything and everything. They let their bodies be the beds and pillows for each other. They do this regardless of age or sex or relation, including with strangers, and including with those whom they heatedly fought moments ago. They hold each other tenderly, caress each other, cuddle and snuggle and nuzzle each other as close as they can, seemingly relishing close contact without boundaries. They let go of their hostility, let go their grievances, and find peace and comfort, if just for a little while.
In this, I saw a lesson of peace, and drew hope and inspiration that kindness and tenderness toward each other always remains possible, that reconciliation can be achieved under even the most extreme circumstances, that the good still can always out. I channeled all of my unfulfilled expressions of love, all of my yearning for reconciliation, all of my hope that goodness can somehow still come through, and all of my need for solace, into this photo project.
---
I hoped that it would somehow be possible to touch her heart. I tried to create a series of photos that not only communicated, but directly conveyed. Instead of making pictures which said "I love you", I wanted to make pictures which would make the viewer feel loved and feel love, would make the viewer feel peace, serenity, solace, and hope and wonder.
It's difficult to articulate in words how I tried to accomplish this, beyond saying "I let my feelings guide me" and "I tried to speak visually", but I'll try:
I chose to work the entire series with a constrained color palette of golden-brown-to-white and gray-blue-to-black, which somehow felt right, in terms of creating a calming, and almost spiritual feeling of love.
I chose to use tonality in a manner that was sort of my own take on Tenebrism, in order to create an effect of luminous subjects emerging from shadowy void, to suggest exalted status. (Tenebrism, from the Italian word tenebroso, meaning "murky", is an offshoot of chiaroscuro. Instead or rendering light and dark in gradual tonal transitions to create a sense of space and form, as in chiaroscuro, Tenebrism renders light and dark in sharp contrast with each other, without much transition, often in order to express relative value. In the Tenebrist style, darkness is often negative, metaphorically as well as literally the absence of light; and brightness is likewise where the light shines.)
I sought out expressions on the sea lions' faces which had a transcendent quality, to me.
I sought out relationships of body positions which appeared intimate and connected.
I tried to make the lines flow in a way that felt "lyrical" to me, and gave me a feeling of universal order.
I tried to use compositions and angles to the subjects which showed no strong visual cues about orientation (i.e., cues about what is the top, bottom, left, and right of what I'm photographing), to produce an other-worldly, timeless, nowhere-and-everywhere effect.
I framed the pictures very close and tightly, showing nothing of the environment, nothing outside of the sea lions' bodies, to give the pictures a reverential sense of intimacy, and to make it feel like they are sharing a world of their very own, a world of nothing but loving, close sharing of sleep together.
It was necessary to take these pictures under fairly challenging conditions, with handheld long lenses, high ISOs, and slow shutter speeds. I took advantage of this to create "dreamy" effects, by choosing the detail frequency in my pictures, in combination with noise (as in signal-to-noise ratio) levels, in a manner that just bordered on interfering with each other, to create in these pictures an experience of the ethereal made manifest.
---
Through this project, I came to realize the difference between telling something to someone, and actually giving someone the experience – for example, the difference between telling someone about love, and bringing someone to feel love. It's a challenging goal, but I've come to appreciate that it is possible to directly give at least some people some direct experiences through photographs; and it's a direction I've chosen to pursue, now that I recognize the possibility.
Also, through this project, I've come to understand that I want to uplift people with my photographs, give them experiences of love, hope, solace, life affirmation, wonder, splendor, connection, meaning, etc.
These are not the only kinds of things I want to do with my photography, but they're some of what I want to do, and they're important (to me) new additions to my photography, which developed from this project. They're far too challenging for me to successfully achieve most of the time, but – now that I recognize them – I can, at least, succeed occasionally.
I've also gained more courage, through this project, about letting down my guard and openly communicating from my heart through my pictures. And I've learned how to more deeply tap into my perceptions, experiences, ideas, and intentions, in order to make them tangible through photos. Moreover, I've learned how to be far more aware of subtle aspects which can be supportively integrated into the creation of visual expression.
Needless to say, I'm far from fully mastering any of this – but, at least, I've found this path. In many ways – some too hard to put into words – what went into this project lead me to better understand myself as an artist, lead me to better discover my artistic voice, and lead me to discover what I want to express, and how I want to express it. It's also lead me to the creation of (in my opinion) some of my strongest work.
---
Hopefully, sharing this example of a project has given some idea of how projects are chosen, how they grow, what kinds of thinking processes are involved, and what kinds of benefits they offer. It will differ for each person and each project, but, if earnest effort is applied, it will always be rewarding.
Thanks for reading.
---
Sleep Cycle – Sleeping California Sea Lions (Zalophus Californianus)
All pictures and text are © Mike Spinak, unless otherwise noted. All pictures shown are available for purchase as fine art prints, and are available for licensed stock use. Telephone: (831) 325-6917.